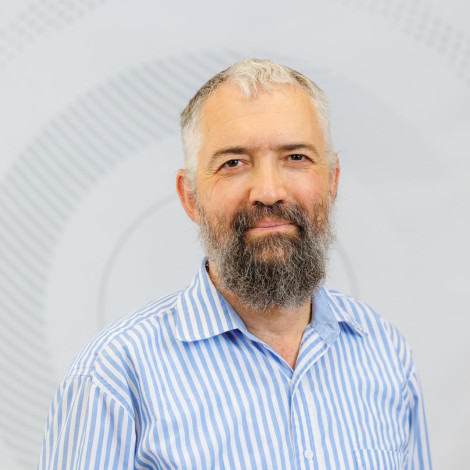 Dr. Yosef Priel
דוא"ל
yosef.priel@biu.ac.il
CV

קורות חיים

Education

| | | | |
| --- | --- | --- | --- |
| 2011 | Ph.D | Bar-Ilan University | Bible |
| 2002 | M.A. (Cum Laude) | Bar-Ilan University | Bible |
| 1996 | B.Ed | Michlala-Jerusalem College | Bible and Jewish Thought |

Doctoral dissertation

"The Exegetical Method of R. Hezekiah Ben Manoah (Hizquni) on the Torah." Advisor: Prof. Yosef Ofer, Bible department, Bar-Ilan University.

Grants and Awards

| | |
| --- | --- |
| 2017 | Excellence award from the rector, Bar-Ilan University |
| 2014 | Excellence award from the rector, Bar-Ilan University |
| 2013 | "Outstanding Lecturer", Bar-Ilan University, School of Basic Jewish Studies |
| 2008 | Bilha Meisels Ph.D Scholarship, Bible Department, Bar-Ilan University |

Additional Employment (other than Bar-Ilan University)

| | |
| --- | --- |
| starting 2003 | "Orot Israel" College |
| starting 2009 | "Givat Washington" College |

 

Previous Employment

| | |
| --- | --- |
| 2003-2010 | Teaching in women's seminaries: Midreshet "Yeud", Jerusalem (3 years); Midreshet Lindenbaum, Jerusalem (6 months);  Midreshet "Orot Etzion", Givat Washington (3 years);  Midreshet "Sha'alvim for Women program" (3 years); Bar-Ilan Uinversity Midrasha for Women (1 year). |
| 1998-2003 | Rabbi-teacher, Jewish studies coordinator and social education coordinator, "Ohr-Torah Stone" High School Yeshiva for Boys, Ramot, Jerusalem. |
| 1994-1996 | Elementary School principal, Kochav-Hashahar. |
| 1993 | Homeroom teacher and Beit Talmid after-school program coordinator,"Noam-Ramot" elementary school, Jerusalem. |
| 1989-1992 | Homeroom teacher and a founding team member of "Ahavat Israel" School, Jerusalem |

 

Other Professional Experience

| | |
| --- | --- |
| 1998 | Certified School Principal, Ministry of Education |
| 1994-1996 | principal; Jewish Studies coordinator and Social Education coordinator, partly as a vice-principal |
| 1993 | Certified Parenting Group Instructor in the Adler method, Bar-Ilan University, 1993. I have led a parenting group in Ashdod |

 
Research

מחקר

Academic profile

In recent years, my main occupation has been the connection between Hebrew song    and the Bible. I wrote four Articles on the biblical writing of Yoram Taharlev, Dudu Barak and Natan  Yehonatan. My teaching also includes this area and I teach in Bar-Ilan three interdisciplinary courses: "Reflection of Torah Stories in Hebrew Song"; "Reflection of the prophets in Hebrew   song" and "The Reflection of the Bible at Israeli writes". which the connection between the Bible  is expressed Musicology, Zionism, history and culture.

My doctoral dissertation revolved around Rabbi Hezekiah Ben Manoah (Hizquni), of the 13th century. Hizquni was found to be the commentary successor of Rabbi Yosef Bechor Shor (12th century France) and Rabbi Yehuda Hachasid (12-13th centuries Ashkenaz). His commentary contained a great deal of discussion of "the way of the world" and "human life" presented from the viewpoint of the commentator as well as that of the reader. Additionally, his commentary is filled with naïve and popular ideas aspiring to bring the Torah, its teachings and commandments closer to the common people. The innovation of this research was in analyzing the general atmosphere and context of the commentary not only its content. This opened up a new perspective on the commentary methods of Northern French commentators. This research also found an answer to the question of the time and place of Hizquni, and through revealing numerous independent commentaries by Hizquni, called for a greater estimation of his historical role. I'm waiting for publishing the book I wrote about.

Another area I research is the issue of Babylonian weekly portion division, the one practiced today. We do not have historical information explaining this division and through the years I have constructed a thesis attempting to elucidate this division. Parts of this thesis are occasionally published in the Bar-Ilan University Weekly Study Sheet, presented in a regular class in Givat Shmuel.

More than anything else my academic profile is expressed through teaching. Significant teaching and education experience and a deep love for fellow human beings, create classes encompassing the almost impossible combination of tradition and research. These classes are emotional at times (en suite what I found in my dissertation and the clear connection between researcher and subject) and create a unique mixture penetrating the hearts of almost all students, even those coming from different background. The many appreciation letters received by the Basic Jewish Studies center, and the meaningful personal connections I have made with students throughout the years, are all evidential to this point.

 

 

 
Courses

קורסים

| | | | | | |
| --- | --- | --- | --- | --- | --- |
| workshop (Hebrew) | 01-0044-01 | Discussion group: Moral issues in Parashat Hashavua | credits equal 2 Annual course hours | Annual |   |
| course (Hebrew) | 01-038-01  | Women in the Bible: character, beauty and fault | credits equal 2 Annual course hours | Annual |   |
| course (Hebrew) | 01-042-01  | Studies in Jeremiah & Ezekiel: Society, Religion and Politics in the 6th Century BCE | credits equal 2 Annual course hours | Annual |   |
| musical workshop (Hebrew) | 01-130-01 | The biblical context of Israeli poetry: From Naomi Shemer to Danny Sanderson | credits equal 2 Annual course hours | Annual |   |
| musical course (Hebrew) | 01-132-01 | The reflection of the bible in Israeli songs | credits equal 2 Annual course hours | Annual |   |
| course (Hebrew) | 01-140-01 | The Jewish holydays: From the bible to the Israeli songs | credits equal 2 Annual course hours | Annual |   |
| course (Hebrew) | 01-804-35 | Studies in Numbers: Complaints, tribulations and hopes | credits equal 2 Annual course hours | Annual | On-Line |
| course (Hebrew) | 01-804-36 | Studies in Numbers: Complaints, tribulations and hopes | credits equal 2 Annual course hours | Annual | On-Line |
Publications

פרסומים

List of publications

 

"Yehushua and Shemoth as books of reflected images", Morashtenu (Oreshet), 16 (2005), pp. 37-58.

"On repetitions in the description of the days of Miluim", in Leib Moscovitz (ed.), Miperot Hailan, Ramat Gan, 2005, pp. 219-221.

"Juxtaposition in Parashat Shelach and the connection by way of symbolism to Tzitzit and Meraglim", Morashtenu (Oreshet), 17 (2006), pp. 75-92.

"On the lengthiness of the Nesi'im sacrifices", Shmaatin, 166 (2007), pp. 15-18.

"The estrangement of Yosef towards his brothers: revenge or an educational process", Talaley Orot (Oreshet), 14 (2008), pp. 35-52.

"How many expressions of redemption are there in the writings?", Morashteno (Oreshet), 18 (2009), pp. 199-209.

"Rabbi Yosef Bechor Shor: his status in the world of commentary and the re-exposure of his commentary", Oreshet , 1 (2010), pp. 113-126.

"The 'name' of the book of Vayikra: identifying a new central concept allowing better quality teaching of a distanced text", The Givat Washington Research Journal: Hagigey (Mehkarey) Givaa, 14 (2011), pp. 47-78.

"The division of weekly Torah portions in the book of Devarim (and its contribution to identifying fundamental ideas in Moshe's speech)", Oreshet, 2 (2011), pp. 53-74.

"Psalms 120 as an opening to the Songs of Ascents", in: Yaakov Epstein and Yael Brosh (ed.), Meorot Tehilim, Elkana 2011, pp. 334-336.

"The meaning of the imagination between the cleansing of the leper and the consecration of the Cohanim", Oreshet, 3 (2012), pp. 35-41.

"Biblical language code word: 'Luz' as Case Study", Shmaatin, 184 (2013), pp. 57-64.

"Details of loot in Midian: Browse length exceeded textual Torah", Oreshet, 4 (2013), pp. 77-86.

"The murderer of Gedalia- new view", Oreshet, 6 (2015), pp. 57-64.

"Hezekia ben Manoach", in: Encyclopedia of the Bible and its Reception (EBR). 

"The Biblical Poetry of Yoeam Taharlev", The Givat Washington Research Journal (Mehkarey Givaa), 4 (2016-2017), pp. 169-201.

"The Good Land, the Pleasant Mountain and Elijah the Prophet in the Songs of Yoram Taharlev", (Mehkarey Givaa), 5 (2018), pp. 189-208.

"The Biblical Poetry of Dudu Barak", The Givat Washington Research Journal (Mehkarey Givaa), 7 (2020), pp. 15-37.

"Met Av Umet Elul" of Natan Yeonathan: The Father, the Son and the and the Scriptures", Rina Ben Shachar and Nitza Ben Ari (eds.), Proceedings of the Ninth Conference" Hebrew as a Living Language", Tel- Aviv University and Hakibutz Hameuchad Press (in print) 2021.

 

Conference Lectures

| | | |
| --- | --- | --- |
| August 2019 | International Organisation for the Study of the Old Testament (IOSOT), University of Aberdeen | "Why did Yehu Ben Nimshi Not Reunite the Kingdoms of Judah and Israel After his Revolt"?. |
| June 2019 | "Mi Ani Shir Israely" conference, Department of Musicology, Bar-Ilan University | topic: "Songs of Remembrance Day in the Education System: Exclusions, Disadvantages and Mistakes" |
| May 2019 | The annual academic conference of the School of Basic Studies | "The Character of Rachel in Hebrew Songs" |
| February 2019 | Academic Conference "Hebrew as a Living Language", Oranim College | " 'Met Av Umet Elul' of Natan Yeonathan: The Father, the Son and the and the Scriptures" |
| June 2018 | University of Amsterdam | "The Biblical Poetry of Dudu Barak" |
| August 2017 | The World Congress of Jewish Studies in Jerusalem | "A problematic addition to the patterns of Rashi's commentary on the Exodus 31:18" |
| June 2017 | University of New York (U.S.A) | "The Biblical Poetry of Yoram Taharlev" |
| June 2017 | conference "Mi Ani Shir Israely", Department of Musicology, Bar-Ilan University | "The Response of Israeli Songwriting to the Results of the Six Day War" |
| March 2017 | Givat Washington College | "Jerusalem in the Bible" Academic Conference on the topic: "The Response of Israeli Singing to the Return to Biblical Jerusalem" |
| June 2016 | Brown University, Providence (U.S.A) | "Which can be a commentator dealing with language and not a linguist: Hizkuni as a test case?". |
| June 2015 | " Mi Ani Shir Israely" conference, Department of Musicology, Bar-Ilan University | "Shlomo Artzi A, Shlomo Artzi B: The Revolution of 1977" |
| February 2014 | "Biblical Reality" Academic Conference | "On Money, Media and Biblical Reality" |
| December 2013 | AJS, Boston | "The Influence of Rabbi Yehuda HaHasid's Biblical Commentary on the Hizkuni" |
| August 2013 | World Congress of Jewish Studies, University of Jerusalem | "Psychological Sensitivity in the Interpretations of Ḥizquni" |
| June 2011 | Medieval Biblical Commentary, University of Haifa | "Hizquni – His time and place, new findings" |

 
Last Updated Date : 12/07/2023